Connect with
Connect-Indigo
Get a chance to win a Connect-Indigo and two CO2 cylinders.
Do you own a new generation pink system carbonating machine? Do you think you're limited to buying only compatible CO2 cylinders? Adapt your machine with Connect-Indigo and continue to use Indigo cylinders.
The Connect-Indigo is an adapter that allows you to connect our regular CO2 cylinders with the newest model of Quick Connect carbonating machine.
Enter for a chance to win one of three prizes worth $94.50, each including a Connect-Indigo adapter and two CO2 cylinders for your next generation carbonating machine.
To participate, you must:
complete the registration form;
answer all questions;
submit the form.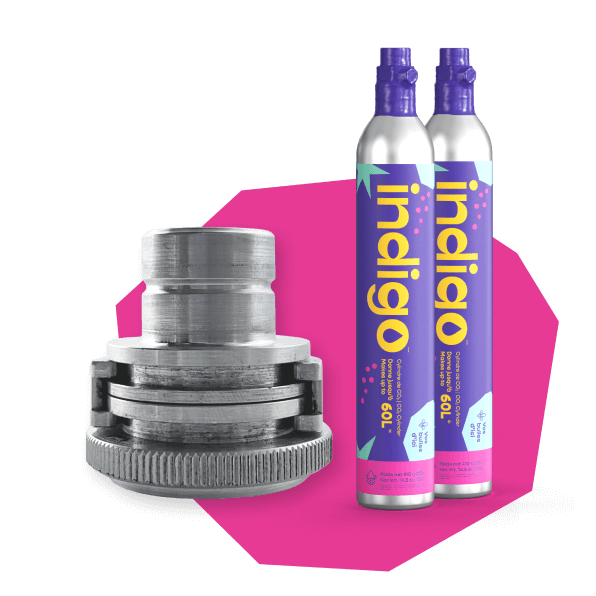 The Contest
The "Connect-Indigo Contest" (hereinafter the "Contest") is organized by Indigo Soda. The Contest begins on March 31st, 2023 at 10:00 a.m. EST and ends on April 20th, 2023 at 11:59 p.m. EST. All references in these rules to time refer to Eastern Standard Time (EST).
Eligibility
This Contest is conducted by Indigo Soda. It is open to all participants who are 18 years of age or older and who reside in Quebec.
Employees, agents and/or representatives of Indigo Soda, and their immediate families, are not eligible to enter the Contest. For the purposes of these Contest Rules, "immediate family" means fathers, mothers, brothers, sisters, children, husband and wife or common-law partner of such employee, agent and/or representative. One chance to win per person.
By entering, you certify that you have read, understood and complied with the Contest Rules in their entirety and agree to abide by these rules. Each winner must correctly answer an arithmetic skill-testing question. By participating in this Contest, entrants authorize Indigo Soda to use their names, recipes, photographs and images for publicity purposes without compensation of any kind.
Procedure
The "Connect-Indigo Contest" Contest begins on March 31st, 2023 at 10:00 am on Indigo Soda's Facebook and Instagram page. To be eligible, participants must complete the form, answer all of the questions and submit the form. Only one chance to win per person. The deadline to enter the contest is April 20th, 2023 at 11:59 pm.
The three winners will be selected based on a random drawing from all entrants.
The selection of the three winners will take place in the office of Erod, creative agency on April 21st, 2023 at 10:00 am.
Announcement of the winners to the public will be made via Indigo Soda's Facebook and Instagram pages by official posting within a week of the winner's draw. Each winner will have been contacted by email beforehand to be notified of the prize described below. The winner will have 48 hours to claim his or her prize and notify the contest organizers, again by phone or email, of his or her interest. He/she must also provide his/her personal information to the contest organizers.
In the event that the Contest Organizers are unable to contact one of the selected entrants, they will make as many selections as necessary among the other eligible entrants.
The prize will only be awarded to the person whose full and valid name matches his/her Facebook username. By accepting this prize, the winner agrees to collect the prize by his/her own means.
Prize Awarding
Indigo Soda is offering three prizes, each consisting of a Connect-Indigo adapter and two CO2 cylinders valued at $94.50. The prize must be accepted as awarded and may not be transferred without the prior written consent of Indigo Soda, substituted for other prizes or exchanged in whole or in part for cash.
In the event that, for reasons beyond its control and unrelated to the Winner, Indigo Soda is unable to award the Prize as described in these rules. Indigo Soda reserves the right to award a prize (or portion thereof) of equal kind and value or, at their sole discretion, the value of the Prize (or portion thereof) in cash.
The Prize may be filmed, recorded or photographed for broadcast on Facebook, Instagram and any other medium Indigo Soda and its partners deem appropriate. Indigo Soda reserves all rights to the materials produced, as well as all broadcast and other rights not expressly written herein.
By entering this Contest, the Winner hereby authorizes Indigo Soda to use, if required, their names, photographs, places of residence, voices, images and/or statements relating to their prizes for publicity purposes without compensation of any kind.
The Winner acknowledges that upon receipt of the Prize, the sole and exclusive warranty that applies is that of the manufacturer, if any.
Indigo Soda, its respective companies and divisions and any of its corporate affiliates, affiliated distributors, advertising or promotional agencies and their respective shareholders, directors, officers, employees and agents, and any other parties involved in this Contest (hereinafter referred to as the "Releasees") disclaim any and all liability in connection with the Prizes and the Contest and make no warranty in connection therewith.
Indigo Soda will not be liable in any way for any inability to act due to any cause or circumstance beyond its control or due to any strike, lockout or other labor dispute at its facilities or at the facilities of any organization or company whose services are used in the conduct of this Contest.
General Conditions
For Quebec residents: Any litigation respecting the awarding of a prize may be submitted to Indigo Soda Ltd. only for the purpose of helping the parties reach a settlement.
The Releasees assume no responsibility for incomplete or incomprehensible contact information on the part of entrants.
Any entry or attempted entry using any electronic, computer or other means contrary to the spirit of this Contest (e.g., hacking, computer-related, copying, etc.) will be automatically rejected and may be referred to the appropriate legal authorities.
Indigo Soda reserves the right to modify or cancel, without notice, the Contest.
The decisions of Indigo Soda are final and without appeal.
The Contest rules are available for the duration of the Contest at the offices of Indigo Soda (www.indigosoda.ca).
Facebook is not responsible for contests posted on the Indigo Soda official page.
Certain conditions apply. If you have any questions or require additional information regarding this contest, please contact Indigo Soda at info@indigosoda.ca.
Security & Privacy
Indigo Soda is committed to protecting and ensuring the privacy and security of participants' personal information.
*NOTE: The masculine gender is used indiscriminately and solely for the purpose of lightening the text.