Sparkling Local Spritz: Your Summer Companion
Discover the recipe for our favourite summer cocktail, the Sparkling Local Spritz. A perfect mix of Quebecois Aperol, homemade strawberry syrup, and sparkling water to celebrate Quebec's strawberry season.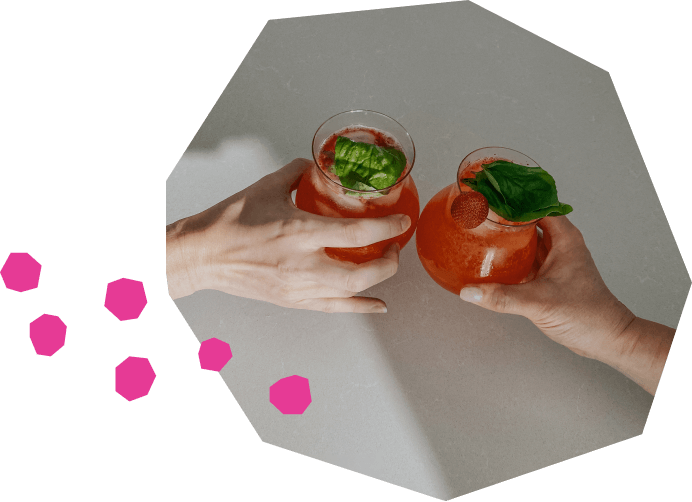 To kick off summer, Jessica Lapointe is back with a third recipe featuring your local sparkles. What could be better than sipping a completely local cocktail by the pool? You can always replace the Aperol with even more sparkles to create an alcohol-free cocktail that's just as local and tasty!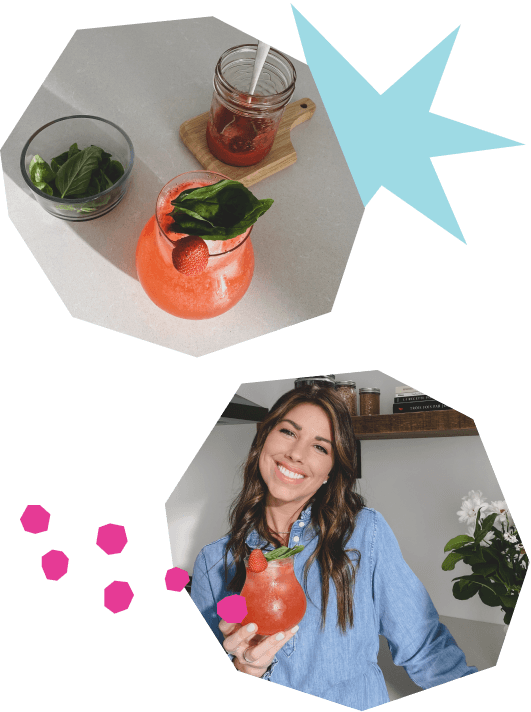 Ingredients
1 oz Aperol Spritz
2 oz sparkling wine
A few drops of lemon juice
2 oz sparkling water
A few drops of simple syrup
A few strawberries
A few basil leaves
Steps
Prepare the strawberry syrup: blend the stemmed strawberries, a bit of simple syrup and a few drops of lemon juice in a blender.
Place 1-2 teaspoons of strawberry syrup in your glass.
Add Quebecois Aperol and sparkling wine, and mix well.
Top with sparkling water.
Garnish with a strawberry and basil.
Le vin rosé a une histoire qui remonte à l'Antiquité, mais c'est seulement au 18e siècle que son élaboration est devenue pratique courante. Le rosé est produit à partir de raisins rouges laissés en contact avec leur peau pendant une courte période, ce qui leur donne leur couleur rosée caractéristique.
Au fil du temps, le vin rosé est devenu de plus en plus populaire, et de nombreuses boissons ont été créées pour le consommer de manière innovante et excitante. Parmi ces boissons, on retrouve les cocktails rosés à l'eau pétillante.
Ces cocktails sont relativement simples à préparer : il suffit de mélanger du vin rosé avec de l'eau pétillante et d'y ajouter d'autres ingrédients au goût. Les ingrédients peuvent varier, mais certains des plus courants incluent des fruits frais comme des fraises ou des framboises, du jus de citron frais, de la menthe, du sirop de sucre, et bien sûr, des glaçons pour garder la boisson bien fraîche.
Les cocktails rosés à l'eau pétillante sont un excellent choix pour les fêtes d'été, car ils sont rafraîchissants et légers en bouche. Leur popularité a augmenté ces dernières années, en partie grâce à l'essor de la culture du rosé, mais aussi en raison de leur combinaison unique de pétillant, de fruité et de douceur.
En conclusion, il est fascinant de voir comment l'histoire du vin rosé s'est développée au fil du temps, et comment une simple boisson peut être transformée en une expérience rafraîchissante et savoureuse grâce à l'ajout d'eau pétillante et d'ingrédients frais. Les cocktails rosés à l'eau pétillante sont une excellente façon de déguster cette boisson classique de manière créative et excitante.
Pour découvrir une tendance en pleine croissance, voici quelques articles à lire et à partager :