Crazy-for-Strawberries Margarita
There is strength in numbers: Jessica Lapointe, Indigo Soda and Fraise d'hiver have joined forces to bring you this out of the ordinary cocktail! Treat yourself to this wintery version of the Margarita—a refreshing blend of tequila, sparkling water and strawberries, garnished with a slice of blood orange and a touch of brown sugar and salt.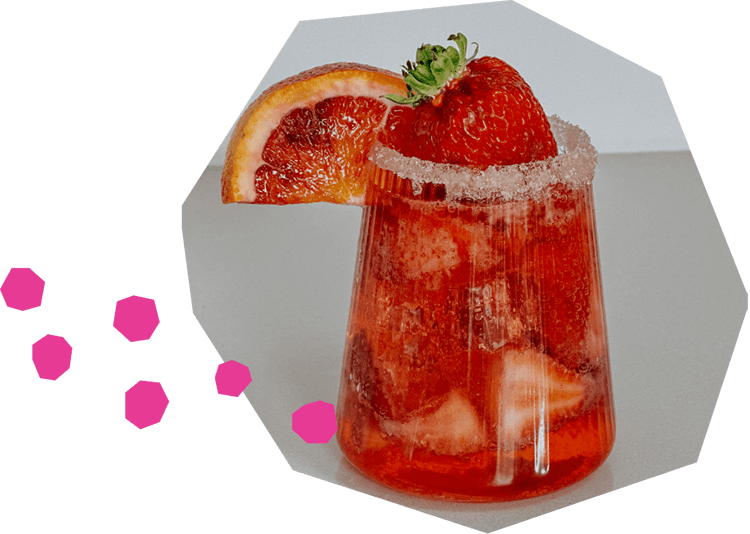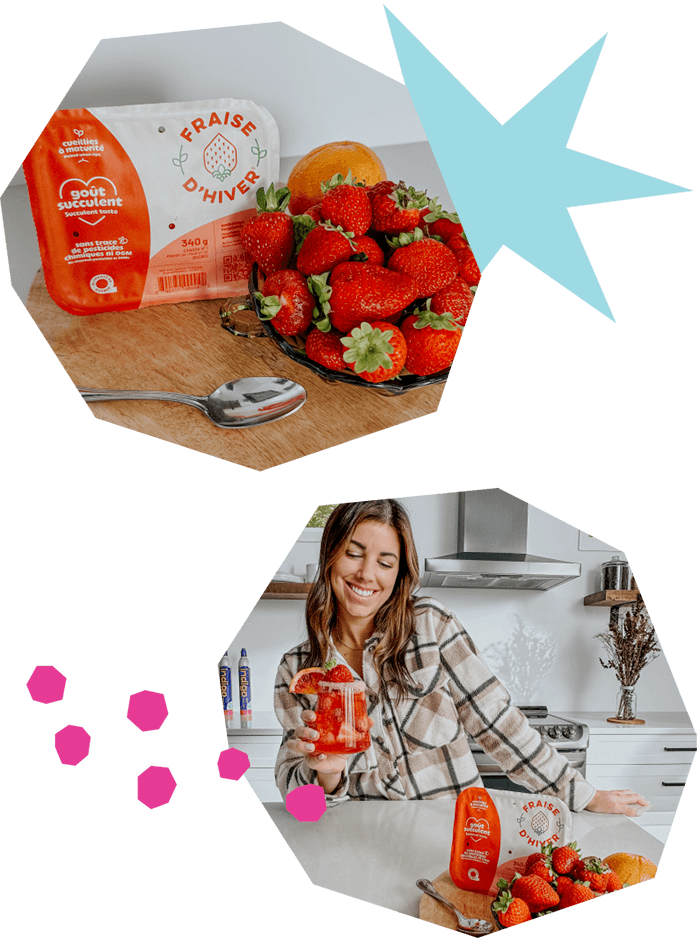 1 oz tequila
A few drops lime juice
A few drops simple syrup
1 oz pomegranate juice
Salt and brown sugar, to rim glass
Fraise d'hiver strawberries
Blood orange slices
Instructions:
Coat the rim of a glass in salt and brown sugar mixture.
Crush a few strawberries in the bottom of the glass.
Add simple syrup, lime juice, pomegranate juice and tequila to shaker.
Pour contents of shaker into glass.
Top with sparkling water.
Garnish with strawberries and blood orange slices.
The Margarita Story
The Margarita is one of the most famous and emblematic drinks in cocktail culture. Though its true history is shrouded in mystery and the origin stories differ depending on the source, here are some of the most popular and widely accepted theories about the history of the Margarita:
Carlos "Danny" Herrera: One of the most popular stories dates back to 1938. Danny Herrera is said to have created the cocktail at his restaurant, Rancho La Gloria, which was located between Tijuana and Rosarito, Mexico. He reportedly mixed this drink for Marjorie King, a patron who was allergic to all alcohol except tequila. To make the tequila smoother, he added the other ingredients that make up a Margarita.
Margaret Sames: Another story credits the cocktail's creation to an American socialite named Margaret "Margarita" Sames. According to this version, she concocted the drink during a party in Acapulco in 1948. She mixed her two favorite spirits, tequila and Cointreau, and added lime juice.
Santos Cruz: Yet another theory suggests the drink was made for Peggy (Margot) Lee, a dancer, in 1948. Santos Cruz, a bartender working in Texas for the singer Tommy Lee, is said to have crafted the drink in her honor.
Evolution of the Daisy: Some cocktail historians believe the Margarita is just an evolution of the "Daisy" cocktail, which is  made of spirits, citrus juice, sweet syrup, and soda. When made with tequila, the drink is called a "tequila Daisy" in Spanish ("margarita" means "daisy" in Spanish).
Popularization: Regardless of its exact origin, the popularity of the Margarita soared with the introduction of the blender in Mexico during the 1950s. The drink was later immortalized in Hollywood culture and popular songs.
Source : https://www.texasmonthly.com/food/the-man-who-invented-the-margarita/